Poetry Salted Caramel Cheesecake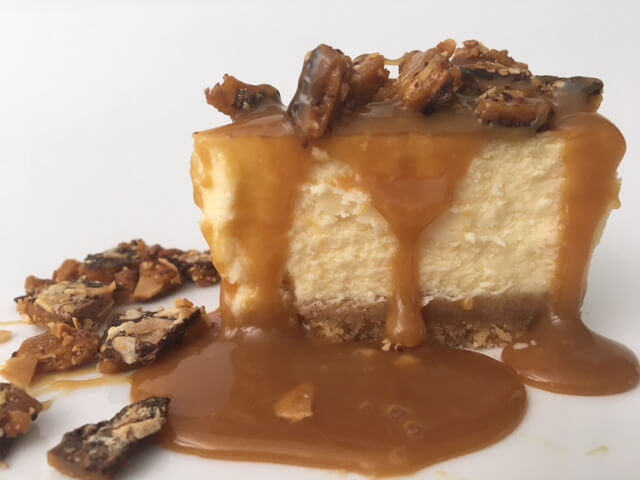 Biscuit Base
1 1/2 cups plain biscuit crumbs
1/3 cup butter, melted
1/4 cup brown sugar
Cheesecake Filling
4 (250g) packages cream cheese, room temperature
1 1/4 cups sugar
4 eggs
1/2 cup heavy cream
1/4 cup Poetry salted caramel sauce
2 tsp vanilla extract
Sour Cream Topping
3/4 cup sour cream
1/4 cup sugar
2 tbsp  Poetry salted caramel sauce
1/2 tsp vanilla extract
Poetry Buttercrunch crumble, for garnish
Poetry Salted caramel sauce, for garnish
DIRECTIONS
For the cheesecake crust, preheat oven to 180ºC In a medium bowl, combine  biscuit crumbs, melted butter and brown sugar. Press the mixture evenly and firmly over the bottom of a 9-inch springform pan. Bake crust for 8-10 minutes. Remove from oven and sprinkle with 1/4 cup Poetry toffee bits. Set aside.
For the cheesecake filling, using an electric mixer, beat the cream cheese and sugar on medium speed until smooth and creamy, about 3 minutes. Add eggs one at a time. Add cream, caramel and vanilla extract until combined. Pour filling into prepared crust. Bake 55-60 minutes. Remove from oven and cool 10 minutes before placing topping over cheesecake.
For the sour cream topping, in a medium bowl, whisk together sour cream, sugar, caramel and vanilla extract until well combined. Spread over cheesecake and bake for 5 minutes in 180 degree C oven. Cool 1 hour at room temperature and refrigerate at least 4 hours before serving. Just before serving, sprinkle POETRY BUTTERCRUNCH  toffee bits over top and drizzle  POETRY salted caramel sauce to garnish.
Serves 12
Summary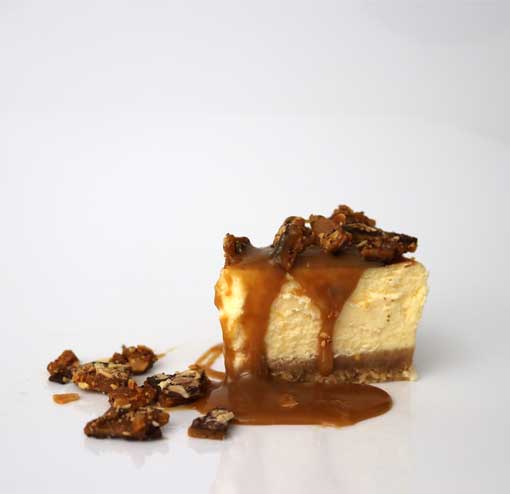 Recipe Name
Poetry Salted Caramel Cheesecake
Author Name
Published On
Preparation Time
Cook Time
Total Time
Average Rating





Based on 1 Review(s)